Digital platform for emission management in agriculture
Biocode brings together producers and organisations for emission management across the food's supply chains. The platform enlightens you with precise primary data directly from farmers and producers — ensuring your carbon accounting is not based on only industry averages.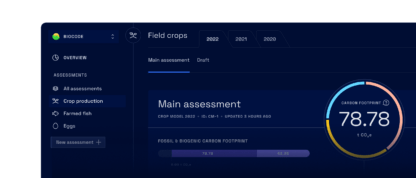 Better calculations
It's like a budget – you can calculate it with the averages, but it's better with real numbers. Get the primary data for better carbon footprint calculations!
Primary data for chained calculations

Organisations can use producer results to calculate end-product carbon footprints or corporate Scope 3 emissions.

A way to differenciate

Using generic data makes it hard to stand out. Use your own data in the calculations and gain a competitive edge.
Collaborative platform
Producers can effortlessly calculate, and securely share their critical emissions data with organizations, making it easier to manage supply chain emissions.
Insights to supplier emissions

Producer sharing their assessments helps you to understand the emission sources.

Supply chain emission management

Understanding where emissions are formed help to collaboratively work together to reduce them.
Detailed emission insights
Farmers and producers are able to see detailed information on the results of their actions.
Comprehensive farm analysis

Understand yearly fossil and biogenic emissions at a glance.

Plot-by-plot breakdown

Gain insights into emissions and/or removals for each individual field plot.

Item-specific plant/livestock data

Uncover detailed carbon footprint metrics for specific items.

Land use soil organic carbon changes

Assess changes in soil organic carbon stocks distinctly from fossil emissions.
Biocode for producers & farmers
Agriculture and primary production
Producers and farmers can include carbon footprint calculation in the planning of crop cycles.
Manage emissions and increase soil organic carbon together with producers & farmers. Biocode is an effective tool for producers and farmers to collaboratively work with food companies to reduce carbon footprints and combat climate change.
Biocode for producers & farmers
Try for free.
No strings attached.
Become part of the solution in the combat against climate change. By signing up you can immediately examine and test the carbon footprint calculations of your products.
14-day free trial, no credit card required

EXPERIENCE CARBON FOOTPRINTING AND EMISSION CALCULATION

Full access to try the company emission & product carbon footprint calculator
Training, support and reporting services require a paid plan. Personal use for farmers and producers is free.