Responsible primary production – calculate the carbon footprint of agriculture
Produce, grow and cultivate more responsible food on a farm and field block basis calculation and soil carbon sequestration. The Biocode carbon footprint calculator serves as a tool for evaluating the climate impacts of primary production.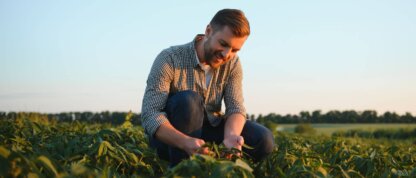 Information does not increase pain
but planning
About 60% of food's climate impact occurs during initial production. Reducing food's climate emissions is possible by making information-based life cycle assessments. Biocode's calculator makes it easy to assess the climate effects of different farming and production methods.
Do you know the emissions generated by your activities?
Using the carbon footprint calculator helps to understand life cycle models and the effects of carbon sequestration on a farm- and field-specific basis
Do you need information to support your operations?
With the help of the carbon footprint calculator, your decision-making is based on reliable databases of emissions and exits
Do you need a solution for sharing data?
With the calculator, the results of subcontractors, contract growers and primary producers are visible to food brands and food producers in real time

It was a big insight for us to realise that at the point when the oats arrive for us to be processed, the carbon footprint of our final product has practically already formed more than 90 percent. With the help of the calculator, we work together with contract farmers to reduce the climate effects of our products and we are able to monitor the development of the carbon footprint of primary production through the online service.
Get started quickly
– clear and easy to use
To begin with, you have life cycle models for field farming and open field crop production. Start the calculation by choosing the production direction and fill in the necessary information for the life cycle assessment.
Farm-specific assessments have helped us to understand where the emissions from our operations come from. Accurate information has helped our contract producers to develop their operations and plan ways to reduce agricultural greenhouse emissions.
Clear and understandable
life cycle assessments
The calculator enables primary producers to calculate, monitor and utilise greenhouse gas emissions and exits. The operation of the calculator is based on the guidelines of the national greenhouse gas inventories of the international climate panel IPCC.
Life cycle assessments
The calculator makes it possible to make, analyse and compare plans, which help in planning and optimising crop rotations.
Monitoring of emissions
Emissions and removals can be used in product-specific life cycle assessments and operational control of farm entities.
Reporting
Plant and block-specific reports are transparent and understandable. They take into account fossil and biogenic emissions and exits.
Use for free.
No strings attached.
By signing up you can immediately make farm-specific life cycle assessments. The counter data can be exported directly to product-specific calculations. Become part of the solution in the combat against climate change.
Free to use

Plot-specific calculation

Plant-specific results
Training support and reporting services are included in the paid version. Personal use by producers and farmers is free.