Choosing between a digital carbon footprint calculator & consulting project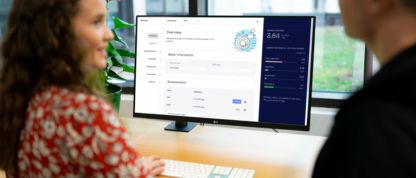 Emission calculations can be approached in two ways: through a one-time consulting project or by utilizing a digital carbon footprint calculator. The latter option provides a quick and cost-effective solution for obtaining reliable emission reports.
Making emission calculations more efficient and cost-effective
Traditionally, emission calculation has relied on project-based expert work, where a consultant skilled in life cycle assessment performs the calculations and presents the results to the client. This model is based on hourly invoicing, with the price determined by the consultant's time spent on the calculations.
While the expertise of a consultant is valuable, the cost of individual product calculations can accumulate to several thousand euros. When multiple products need to be assessed, the overall price for emission calculations can become prohibitively high.
By utilizing a digital calculation tool, the program performs the calculations using an embedded algorithm. Instead of a one-time consulting project, the customer gains access to a tool that operates on an annual license. This approach ensures cost-effectiveness in the calculation process while offering additional advantages.
Educate users through self-calculations
Using Biocode has given us a lot of 'ah-ha!' experiences. It has been insightful to use the calculator and see how different raw materials affect the end result. We have learned that rapeseed oil, for example, can increase the carbon footprint of products quite a lot.

Linda Forss
Procurement Manager, Anton&Anton
One of the significant advantages of a carbon footprint calculator is the knowledge gained by the customer. The calculator standardizes and automates complex calculations, allowing users to generate results and reports independently. This empowers them to better understand their own operations' carbon footprint and the factors that influence it.
While carbon footprint calculation is currently voluntary, regulatory requirements and consumer interest are growing. In the future, environmental reporting will become an essential aspect of businesses, akin to financial reporting. Companies must be prepared to address this need. Adopting a calculation tool enhances a company's capability to handle life cycle assessments internally. This, in turn, enables effective management of emissions within their own operations and throughout the supply chain.
Accessing real-time information with the digital carbon footprint calculator
Biocode's calculator is really easy to use and fast compared to a consultant spending a week to collect data, and he should be given support and help with data acquisition. Now I collect the information myself in a few days, enter it into the calculator and get the calculation right away.

Biocode's Customer interview
Life cycle assessments rely on two types of data: secondary data derived from databases and statistical generalizations, and primary data representing actual information about activities and their effects. The conventional consulting approach often relies heavily on secondary data, which involves assumptions and generalizations. While accurate primary data can be collected through consulting projects, it is time-consuming and often requires the client's active involvement. Collecting primary data without the necessary tools can also be costly.
The carbon footprint calculator utilizes emission coefficients from databases, while also providing the option to obtain primary data through the primary production calculation tool. This allows for cost-effective information collection throughout the entire supply chain, resulting in more accurate calculations. Improved accuracy, in turn, facilitates effective management of emissions within the supply chain.
Constantly updated tool
Life cycle assessment is an iterative process that requires regular updates as new information about operations becomes available. In the case of consulting projects, the result is typically a static report, such as a PDF file, which is difficult to update.
On the other hand, the carbon footprint calculator serves as a continuously updated operational management tool. Calculations can be renewed on an annual basis without the need for ordering a new consulting project each year. If consultants change annually, restarting the process becomes necessary. With the calculator, data is stored digitally and can be easily updated.
Quick and Comprehensive Service Package
The comprehensive service package is included in the annual license of the calculation tool. Users can collect data, perform calculations, and generate reports independently. The service also encompasses verification, ensuring the credibility of calculations for communication and marketing purposes.
The calculator is designed to be user-friendly, generating visually appealing and easily comprehensible reports. Users can quickly grasp its functionality and obtain results within minutes. The system incorporates guidelines, reports, and standards, with the calculator incorporating expert knowledge. Users only need to possess a good understanding of their own operations and input relevant information, such as raw material quantities and packaging materials, into the system.
What about the costs?
Traditionally, life cycle assessments conducted through consulting projects could cost several thousand euros. However, this model lacks scalability when dealing with a large number of products to be assessed. With an automated solution like the carbon footprint calculator, calculations can be performed cost-effectively for extensive product portfolios and complex raw material supply chains.
In a consulting project, the average price for calculating the carbon footprint of a single product is estimated to be around €3,000. Here's a comparison of the annual costs for the Biocode Lite and Biocode Plus services in relation to the estimated cost of a consulting project:
---
Project A: Includes verified carbon footprints for 20 products (at €3,000 each), totaling €60,000.
VS.
Biocode Lite starting from €2,040 per year.
Onboarding cost: €2,000.
With the annual license, you can calculate individual product carbon footprints as much as you want. Expert-verified calculations for 20 products cost €5,700 per year.
Total cost: €7,740 per year + €2,000 in the first year.
The cost for calculations made with Biocode is approximately 83% less than the cost of a project done with consulting.
---
Project B: Includes verified carbon footprints for 100 products (at €3,000 each) and 20 raw material suppliers (at €3,000 each), totaling €360,000.
VS.
Biocode Plus starting from €4,080 per year.
Onboarding cost: €2,000.
With the annual license, you can calculate individual product carbon footprints as much as you want. Expert-verified calculations for 100 products cost €29,400 per year, and for 20 raw material suppliers cost €1,836 per year.
Total cost: €35,316 per year + €2,000 in the first year.
By choosing Biocode Plus, you would save nearly 90% compared to the cost of a project done with consulting.
---
The common saying suggests that quality comes at a high price. However, with Biocode's carbon footprint calculator, you can access a comprehensive system and service at a fraction of the estimated cost of a consulting project.
Take advantage of a free two-week trial of the carbon footprint calculator and experience its benefits firsthand.
Pricing questions
Check out the frequently asked questions about our pricing. Don't find what you are looking for? Contact us!
Farmers and producers can create Biocode account and use it for free. Everyone else can create Biocode free trial account! The trial period for food products' calculator is two weeks, and after that you can upgrade to paid plan.
The paid licence is valid for one year. Life Cycle Analysis are typically done for the last calendar year.
If you want to cancel your paid plan, contact your sales person or send us an email: support@biocode.io.