Innovating for a Greener Future: How Lagerblad Foods Integrates Carbon Footprint into Product Development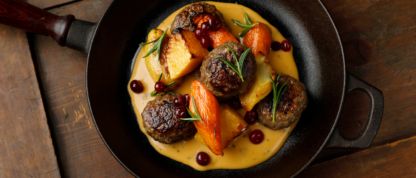 Lagerblad Foods, a Finnish food company, has leveraged its knowledge of product carbon footprint to drive the development of new climate-friendly products and transform its product catalog. Understanding customer needs has played a crucial role in this endeavor.
For Lagerblad Foods, approaching product development from an eco-conscious perspective is an integral aspect of their operations, aligning with their commitment to corporate responsibility. While the company had gained recognition for its meatballs and other meat products over the years, there emerged a growing demand from customers for vegetarian alternatives.
To address this shift and respond to customer preferences, Lagerblad Foods made a strategic move by increasing the variety of vegetarian offerings. In 2019, the company introduced a climate meter to their product catalog, showcasing the emissions associated with different raw materials.
Heidi Lerche, responsible for marketing at Lagerblad Foods, explains the motivation behind this addition: "We wanted to initiate conversations about emissions, especially since the proportion of red meat in our own selection had decreased to some extent."
Including the meter in the product catalog prompted the company to consider to calculate the precise carbon footprints of their own products. This would enable them to get valuable insights of the raw materials used to support ongoing product development efforts. Customer inquiries further propelled them to take action.
"We realized that it was time we addressed this matter, as we strive to make a positive impact on the climate. Some of our partners recommended Biocode, and upon contacting them, we immediately sensed that it would be a perfect fit," Lerche emphasizes.
Accurate information about each raw material
Lagerblad Foods specializes in producing high-quality frozen foods, all crafted from the scratch in-house. The company's wholesale selection comprises approximately 100 products, and the carbon footprint is calculated for about 1/6 of these products so far using Biocode. Right from the start, a diverse range of products from each category were chosen for the calculations.
Lerche explains the rationale behind this approach: "We didn't want to solely focus on calculating the carbon footprint of vegetarian products, as their numbers are naturally lower compared to meat products."
The initial phase of the calculation project posed the greatest challenge, involving the collection of comprehensive data for each raw material. Given the varied sizes and manufacturing methods of the products, precise and careful calculations were imperative.
"To facilitate the process, I compiled all the necessary information in a spreadsheet. Once the data was inputted into the system, the calculations were swift and efficient," highlights Lerche.
---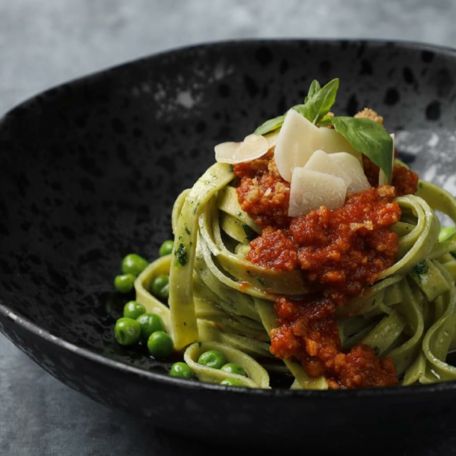 Lagerblad Foods' Carbon Footprint Calculations
Counting around 100 products in the next two years
The products are manufactured on three different lines
The products contain from 4 up to 20 ingredients
Different manufacturing methods, baking temperatures and baking times of different products affect emissions
The lowest emission reading so far has been 0.87 and the highest 24.6.
---
Anyone can start the carbon footprinting
Lerche admits that starting the calculation project seemed like a big effort, because she has no training in the field, and life cycle calculations were unfamiliar territory. However, the process of learning something new required time and effort.
"I'm thrilled that I took on this challenge. We have our own product development kitchen, and I've even experimented with the calculator for future products. Conducting calculations in a trial mindset is quite enjoyable and addictive," Lerche chuckles.
The calculator is logical and user-friendly, so much so that anyone with even a hint of enthusiasm for the subject can perform the calculations.

Heidi Lerche, Lagerblad Foods
The support from Biocode's experts has been invaluable in overcoming challenges throughout the project.
"It's rare to experience such smooth collaboration. Whenever I had questions, I always received prompt responses from Biocode, and their enthusiasm for their work is contagious. There were moments when I thought, 'Oh no, I have to bother them again,' but they were always delighted to assist," Lerche commends.
A new product family emerges with insights from the carbon footprint calculator
According to Lerche, the results obtained through the calculator didn't hold many surprises. As expected, emissions from red meat were higher compared to other raw materials.
"Raw materials contribute significantly to emissions. I had assumed that energy would play a larger role, but since we use green energy, its impact remains relatively minor."
From the outset, Lagerblad Foods aimed to openly communicate the calculation results. They intended to utilize them to support sales, reporting, and responsibility communication. Furthermore, the calculations served as a catalyst for making tangible changes in their own operations.
"We are currently developing a new product family, taking into account how we can reduce our carbon footprint. The results have prompted us to explore different perspectives on how we can offer sustainable options to our customers," Lerche reveals.
Discover more about Lagerblad Foods and their sustainability program on their website in Finnish or Swedish.