Climate-responsible food with a transparent carbon footprint
Make responsibility a measurable part of your company's operations and communication. With a carbon footprint calculator, instead of long calculation projects, you can respond to the demand for responsible food and the increased pressure on food consumption immediately.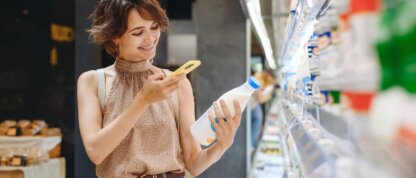 Responsibility is not difficult
– calculate the carbon footprint yourself
The increased climate pressure can be seen and felt
in the food market. Consumers and central stores need information about companies' climate actions. Biocode makes carbon footprint calculation possible even for small responsible food brands and food producers.
Do you want to prove your responsibility?
Grow your concrete understanding of climate action and learn to identify where emissions are coming from
Do you need reliable information?
Prove the carbon footprint of your products all the way from downstream production. Ready-made databases speed up and clarify calculations.
Do you need clear reports?
Avoid sudden reporting pressure. Respond to demand with clear and reliable reports.

Using Biocode has given us a lot of 'ah-ha!' experiences. It has been insightful to use the calculator and see how different raw materials affect the end result. We have learned that rapeseed oil, for example, can increase the carbon footprint of products quite a lot.
Get started quickly
– clear and easy to use
Forget about long and difficult calculation projects with consultants. The web-based calculator helps you get started and increases your understanding step by step. The national primary production counter helps to collect the data reliably directly from the farms.
Transparent calculation
– visual reporting
The climate effects of food accumulate over the entire life cycle. At Biocode, you have a ready-made database for thousands of food industry decision factors.
Biocode's experts work to support you, so that your reports and calculations are based on researched and standardised information. Biocode reports are visual and digital, making it easy to share and update them in real time worldwide.
Emission factors
Raw materials

Procurement chain

Production

Packaging materials
Real-time comparison
Life cycle lists

Reactive bar charts

Comparison table
Digital reporting
Company profile

Product profile

Carbon footprint label
Clearer carbon footprint
comparison of products
With Biocode's carbon footprint label, comparing and choosing climate-friendly products is even easier and understandable. With the help of the label, the carbon footprint is compared to the carbon footprint of products in its own product category.
Carbon footprint classification from A-E

26 different product categories
Try for free.
No strings attached.
Become part of the solution in the combat against climate change. By signing up you can immediately examine and test the carbon footprint calculations of your products.
14-day free trial, no credit card required

Testing your own product- or field-specific calculation
Training, support and reporting services require a paid plan. Personal use for farmers and producers is free.