Carbon footprint label & benchmark table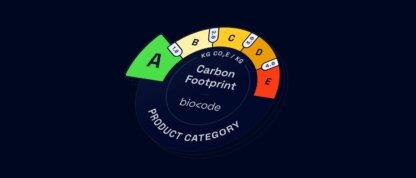 Biocode's label is an easy way for food companies to demonstrate they are tracking the climate impacts of their products and reducing emissions across their value chains. The product's carbon footprint is compared to other products in the same category and given a classification from A to E according to the categorisation table.
Biocode's label allows consumers, clients, business partners, and other stakeholders to identify which companies are truly ambitious in reducing their products' life-cycle emissions.
The label shows a carbon footprint classification from A to E.
The criteria for gaining the label is simple: start calculating your product's carbon footprint with Biocode, get a value and compare it within the suitable product category. We will issue the correct badge when the results are confirmed.
The categorisation contains 26 different product categories.
The label can be used as a link to Biocode's online profile, as a label in product packaging, for marketing and communication needs, and in corporate sustainability reports, to name a few.
The function of the label is versatile physically or digitally.
Try for free.
No strings attached.
Become part of the solution in the combat against climate change. By signing up you can immediately examine and test the carbon footprint calculations of your products.
14-day free trial, no credit card required

Completed sample calculation for the product

Testing your own product- or field-specific calculation
Training, support and reporting services require a paid plan. Personal use for farmers and producers is free.