Immediate Way to Reduce Agricultural Emissions: The Benefits of Regenerative Farming in Barley Cultivation
Science and research have shown that agriculture plays a significant role in climate issues. While it contributes to emissions, it also has the potential for carbon sequestration through the implementation of appropriate cultivation methods. Our analysis reveals that regenerative farming techniques can effectively repeal the majority of emissions associated with barley cultivation.
The analysis reveals that barley cultivation on arable land releases approximately 1800 kg CO2e/ha/year in fossil emissions per field. Around 60% of these emissions stem from direct and indirect N2O emissions, amounting to approximately 1077 kg CO2e/ha. However, simply transitioning from plowing to direct seeding allows for soil carbon sequestration of 1163 kg CO2e/ha/year, effectively repealing the direct and indirect N2O emissions. By incorporating carbon inputs such as cover crops, diversifying crop rotation with grasses and nitrogen-fixing plants, and implementing green manure practices, farmers can sequester up to 1421 kg CO2e/ha/year in the soil.
Notably, implementing all the regenerative farming measures assessed in the analysis—direct seeding, substantial plant-based carbon inputs, and regular utilization of livestock manure for fertilization—can result in soil sequestration exceeding 7300 kg CO2e/ha/year. This amount is four times greater than the total fossil emissions from arable land.
Cultivation method scenarios and source material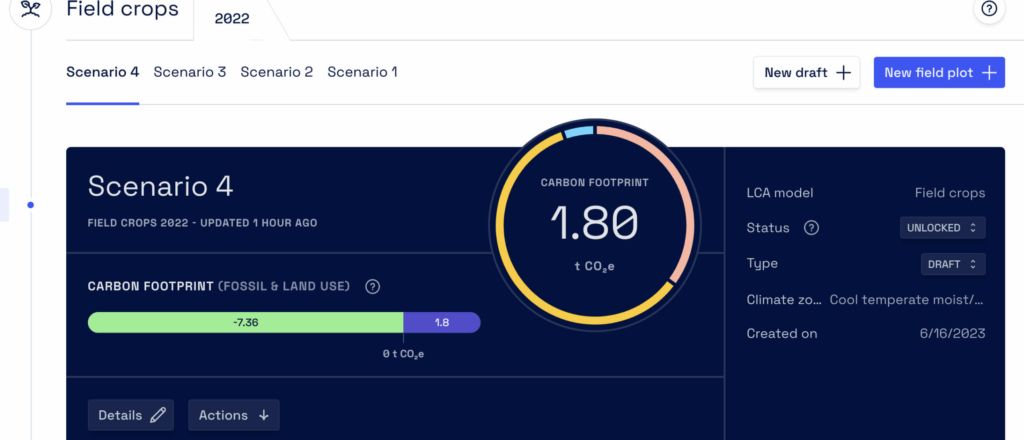 The calculations and data sources for these cultivation scenarios were based on the ProAgria block database, estimating barley yields and input requirements. Fuel consumption was estimated based on average consumption rates, while emission coefficients for various production inputs relied on accurate databases and official statistics.
The analysis examined a baseline and three scenarios representing changes in agricultural practices. These scenarios were compared to a situation where the field was plowed, barley was cultivated as a monoculture, crop residues were left on the field, and neither cover crops nor livestock manure were utilized. Carbon farming practices were added to the scenarios incrementally:
The first scenario involved transitioning from plowing to direct seeding.
The second scenario focused on increasing plant-based carbon inputs through different agricultural practices.
The third scenario combined direct seeding and enhanced carbon inputs, leveraging both carbon farming measures.
Regenerative farming has the potential for significant climate action
This analysis supports the notion that the principles of carbon farming offer a tangible solution to agricultural climate challenges. Farmers can significantly reduce emissions associated with barley cultivation by adopting regenerative farming practices. Not only does this mitigate greenhouse gas emissions, but it also improves soil fertility and sustainability.
These findings can empower farmers to make more informed decisions regarding their cultivation methods. Simple changes in agricultural practices can yield substantial climate benefits.
It is important to note that calculating soil carbon stocks entails uncertainties, and we are following the ongoing research internationally. Biocode is committed to refining its carbon footprint calculator to account for the impact of carbon farming practices on soil carbon sequestration. With our technologies, farmers can gain a better understanding of their climate impacts and work towards promoting carbon farming.
Use for free.
No strings attached.
By signing up you can immediately make farm-specific life cycle assessments. The counter data can be exported directly to product-specific calculations. Become part of the solution in the combat against climate change.
Free to use

Plot-specific calculation

Plant-specific results
Training support and reporting services are included in the paid version. Personal use by producers and farmers is free.