Kalavapriikki calculates the product-specific carbon footprint with Biocode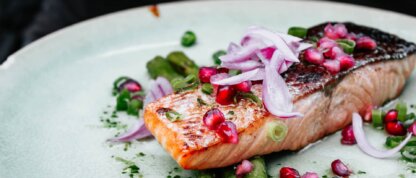 The Finnish fish company Kalavapriikki used Biocode's carbon footprint calculator to determine the carbon footprint of its products and to communicate their climate work to the stakeholders.
The company also known as Kalaonni, offers consumers a variety of fish products while respecting the environment. The solutions made now have long-lasting effects. Kalavapriikki has taken action on its own initiative for environmental and climate responsibility: the company has radically reduced the use of plastic in its packaging so that less microplastic ends up in waterways, and has started cooperation with Biocode to determine product-specific carbon footprints.
Kalavapriikki selected Biocode as their partner for climate work, because the tools offered by Biocode are multi-purpose and based on up-to-date science. With Biocode's carbon footprint calculator Kalavapriikki finds out the product-specific carbon footprint and communicates it to the stakeholders.
Phasing out the carbon footprint gives you the opportunity to make a difference and make a positive difference. We want to show that delicious food can be environmentally friendly.

Ari Hietanen, Product Development & Guality Manager, Kalavapriikki
👉 Check out Kalavapriikki's carbon footprint calculations here.
---
Environmental responsibility is an important part of operations
For Kalavapriikki, environmental responsibility actually comes quite naturally – after all, we are dealing with natural products. Taking care of the condition of the fish's habitat is extremely important to the company, not only because of its ethics, but also because of the quality of product.
Our raw materials come from Finnish lakes and the Baltic Sea where climate change and eutrophication are a visible problem. We want to make a positive impact where our operations have an effect.

Ari Hietanen, Product Development and Quality Manager, Kalavapriikki
---
Climate actions and sustainable fish products
Kalavapriikki has started its climate and environmental work in 2016, when a new energy-efficient production facility opened its doors. The company sees that energy efficiency is the cornerstone of their environmental responsibility.
The team at Kalavapriikki is especially pride of the solar power plant commissioned in 2018 as well as continuous investment in renewable energy. The company's goal is to be as self-sufficient in energy use as possible. Kalavapriikki utilises geothermal heat and recovers all excess heat.
We expect that we will be able to focus climate measures more precisely on the right points in the processes.

Ari Hietanen, Product Development and Quality Manager, Kalavapriikki
Try for free.
No strings attached.
Become part of the solution in the combat against climate change. By signing up you can immediately examine and test the carbon footprint calculations of your products.
14-day free trial, no credit card required

Testing your own product- or field-specific calculation
Training, support and reporting services require a paid plan. Personal use for farmers and producers is free.