Corporate Emission Accounting – What are the Scopes 1, 2 & 3?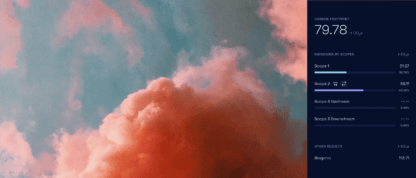 The scopes 1-3 of corporate emission accounting are categories into which greenhouse gas emissions generated in operations are typically divided. In the food industry, raw materials constitute a significant portion of the carbon footprint, making the emission calculation throughout the value chain important.
Companies will increasingly integrate emission reporting into their daily operations in the future, alongside financial reporting. This is mostly because authorities continuously tighten requirements for non-financial reporting.
The upcoming Corporate Sustainability Reporting Directive (CSDR) requires companies to report on corporate responsibility. This comprehensive framework also includes environmental reporting, such as reporting on emissions from their own operations and the value chain.
The most commonly used standard for calculating climate impacts is the GHG Protocol. In this protocol, emissions are divided into three categories known as scopes 1, 2, and 3. Scopes describe a company's direct and indirect emissions from its own operations and the emissions from its value chain.
What are the differences between scope 1, 2, and 3 emissions?
Scope 1: Direct emissions from company's own operations
Scope 1 covers emissions generated by a company through its own activities. For example, energy production, internal transportation, manufacturing processes, and potential gas leaks fall into this emission category.
Scope 2: Indirect emissions from own operations
This emission category encompasses all indirect emissions resulting from a company's purchased energy. Purchased energy could include, for example, heat, electricity, steam, or cooling.
Scope 3: Emissions from the company's supply chain
Scope 3 represents emissions that arise within a company's value chain. These indirect emissions can occur in the procurement of raw materials, manufacturing of products, their use and disposal, or their use by consumers.
Value chain emissions are further categorised into downstream and upstream activities. Upstream refers to emissions generated before a company receives a product and starts using it, while downstream refers to emissions generated after a company has sold its manufactured product.
Watch our webinar to learn about emission calculations through examples!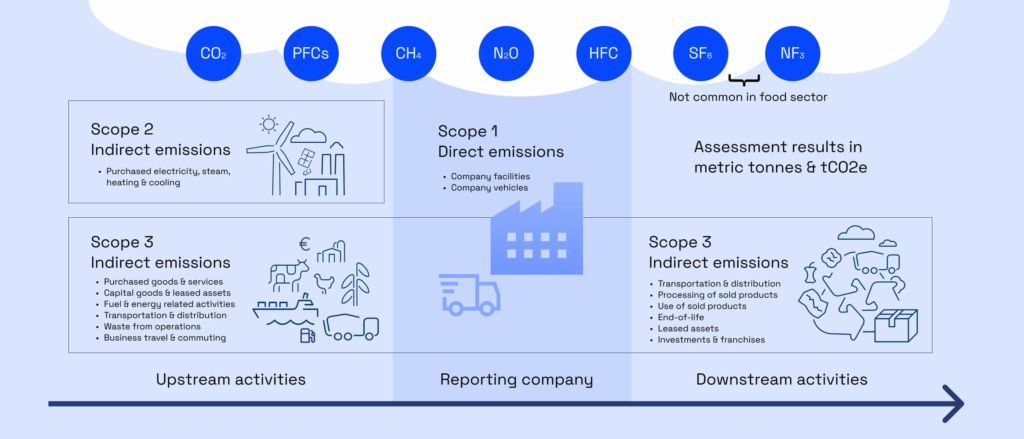 The importance of the supply chain is emphasised in the food industry
The primary contributors to emissions in the food industry are:
Raw materials
Transportation
Waste management.
Raw materials are the first category of scope 3 emissions, and in the food industry, they often constitute a significant portion of the emission load. Assessing the emission impact of purchased raw materials, such as meat and grain from contract producers or products purchased by stores, is substantial but challenging.
In the GHG Protocol, in addition to carbon dioxide, other gases like nitrogen oxides are defined, which may be generated, for example, in grain cultivation or livestock production. Emissions, therefore, vary significantly among different companies in the food industry.
The most accurate data on emissions can be obtained through supplier-specific assessments. This helps determine emissions from production inputs, providing accurate picture of the raw materials used. This is particularly important when striving to reduce emissions.
Emissions resulting from the processing of sold products and their usage are a smaller part of emissions in the food industry, but they should also be considered in calculations.
Estimating emissions from product usage can be challenging since it can be difficult to know how customers use a product or how a product is further processed. However, it's good to make at least a rough estimate of these emissions to create a comprehensive overview of the entire supply chain.
Why are all scopes of emission accounting important?
Even though reporting obligations initially apply only to large companies, small businesses should also prepare to report their emissions. Large companies must also consider scope 3 emissions, requiring them to demand data from their supply chains.
Therefore, in the future, the CSR Directive will oblige companies to report emissions, but emission calculation also provides companies with opportunities to impact their own operations. It's not just about mandatory calculations.
Calculating emissions, reporting results, and using data for the improvement of operations can give companies a competitive advantage. Companies have a good opportunity to stand out when special attention is paid to climate actions, considering all scopes of emission accounting.
Emission calculations allow influencing emissions throughout the entire production. Based on data, companies can make changes in their operations. These changes can be, for example, reducing raw materials that produce high emissions or adopting more environmentally friendly practices. In the best case, these changes can lead to cost savings.
Ultimately, the most essential aspect of corporate activities is the need to reduce emissions to prevent an uncontrolled increase in global temperatures. Accurate data collection throughout the entire supply chain is crucial in achieving this.
Start making impactful, data-driven decisions with GHG calculations. Learn more about company emission calculation!