Understanding the IPCC and its role in carbon footprint calculation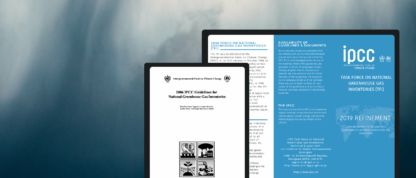 A Quick recap of IPCC, Intergovernmental Panel on Climate Change for food Industry professionals navigating in carbon footprint calculations and Life Cycle assessments.
If you're working to keep our food sources sustainable, you've probably heard of the Intergovernmental Panel on Climate Change. But what do they do, and what do you need to know about their guidance on carbon footprint calculations? Let's dive in.
What is the IPCC?
Simply put, the IPCC is a big group of scientists from around the world. Together, they try to understand climate change: what causes it, what it does to our world, and how we can fight it. Although the IPCC doesn't do its own research, it does gather all the important climate studies and information in one place, making it easier for people (like government leaders and businesses) to make informed decisions.
What's its impact in the food industry?
When it comes to growing, producing, and transporting food, climate change is a big deal. It affects everything from how crops grow to how food products get to people's plates. The IPCC helps the food industry by:
Sharing knowledge on how climate change affects agriculture.
Offering strategies to protect our food sources from changing weather patterns.
Providing advice on how to make the food industry more environmentally friendly.
Giving guidelines, a set of rules and recommendations to help countries and companies to keep track of and report their greenhouse gas emissions.
Understanding the work of the IPCC helps food companies to make better decisions and create strategies that are good for both the business and the planet. By knowing how climate change affects our food sources and what we can do to minimize these impacts, we are one step closer to a future where everyone has access to safe, sustainable food.
In short, the IPCC provides the knowledge and the food industry puts it into action, ensuring our food sources are protected and sustainable for years to come. So, keeping an eye on the IPCC's findings is a smart move for any professional in the sustainable food sector.
The 2006 IPCC Guidelines and the 2019 Refinement: What You Need to Know
When talking about the IPCC's work and how it relates to carbon footprinting, there are two major publications that come to the forefront: The "2006 IPCC Guidelines for National Greenhouse Gas Inventories" and its subsequent "2019 Refinement." Here's a quick look at both.
2006 IPCC Guidelines for National Greenhouse Gas Inventories
The 2006 Guidelines are a set of rules and recommendations made by the IPCC. They help countries keep track of and report their greenhouse gas emissions (the gases that cause climate change).
These guidelines include ways to calculate emissions from agriculture, forestry, and other land use. This means they're crucial for understanding how farming and food production impact the environment.
2019 Refinement
The 2019 Refinement isn't a complete redo of the 2006 Guidelines. Instead, it's like an update or a patch to a software. It provides clearer guidance, addresses gaps, and considers new scientific knowledge that's come up since 2006.
---
💡 The way Biocode's carbon footprint calculator works is built upon several recognized standards and methods. Among these methods are the two mentioned above. Dive into all the Life Cycle Assessment (LCA) methods we use.
---
Conclusions
With more up-to-date information, the food industry gets a clearer picture of where emissions come from and how they can be reduced. For sustainability professionals, it's a valuable resource for making sure their strategies are as effective and current as possible.
By understanding and applying the principles from the 2006 Guidelines and the 2019 Refinement, the food industry can ensure they're taking meaningful steps to reduce their carbon footprint and play a positive role in fighting climate change. So, for anyone keen on sustainability in the food sector, being familiar with these publications is essential.