New reinforcements in Biocode's team and board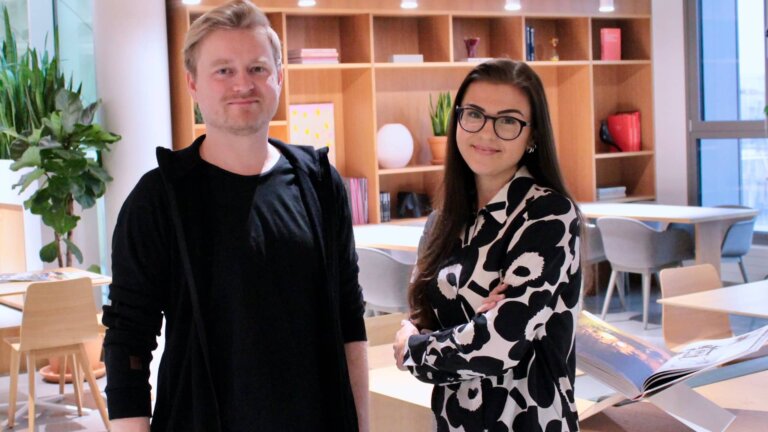 Biocode's multidisciplinary team has grown at a steady pace throughout the year. This fall, two new employees have joined the team: Marketing and Communications Specialist Jasmin Järvinen and UI/UX Designer Joonas Sandell.
Jasmin holds a Master's degree in Environmental and Sustainability Science. She specialises in climate issues, corporate responsibility and sustainable food production and consumption. In addition to expertise in the field, Jasmin has skills in digital content production and marketing communications. She has previously worked among communications, environmental issues, and corporate responsibility at e.g. Finnish Packaging Recycling, Ministry of the Environment and Slush.
"Empowering to work in an organisation whose goals and values are so well in line with mine. At Biocode I can combine my biggest interests on a daily basis, i.e. food sustainability and climate issues with marketing and communications – how great is that! Awesome to be part of Biocode's story fostering the transition towards carbon-neutral food system to tackle climate change"

Jasmin Järvinen
Joonas, on the other hand, is a creative designer and autodidact frond-end developer with more than ten years of experience in diverse user interface projects. Joonas arrived to Biocode from a software company called Mediasignal, where he developed various web-based solutions for over six years. Joonas is responsible not only for the service user interface design and development but also for the technical implementation of Biocode's new website.
"Both minimizing my carbon footprint and everything visual has been important to me since I was a kid. In the search for new challenges, the position at Biocode felt even a bit unreal as it perfectly matched my values and the cornerstones of my expertise: coding and user interface design. I cannot wait to work with the team to design and build a functional and beautiful entity from Biocode!"

Joonas Sandell
Reinforcements in Biocode's board
Minna Kaitala has been named as Biocode's new board member. Minna is an experienced brand and marketing professional. For the last 15 years, she has led and implemented transformation in different kinds of brand agencies, technology companies, and startups. She has developed brand strategies and marketing concepts for several well-known Finnish brands such as Fazer, Iittala, and Visit Finland. Minna has operated as a brand consultant for Reaktor, as well as the Chief Brand and Marketing Officer at Compensate, a startup aiming to tackle climate change. Minna is an advocate of sustainability, which is why creating and promoting meaningful brands is especially close to her heart. She brings strong business growth and brand marketing expertise to Biocode's board.
"The world is made a better place through actions and increased knowledge. Technological innovations and solutions based on the best scientific knowledge not only break old beliefs but also help companies make better choices at all stages of the value chain. Developing food production to be more climate-smart and reducing food waste are key food-related solutions to prevent global heating, and thus to achieve a better future. It's great to start this joint journey with Biocode's top team" says Minna.
Biocode's board constitutes of the Chairman of the Board Harri Mäkivuokko from ProAgria, Christian Jurvanen from Mtech, and Minna Kaitala.